Lieke van der Veer
Published on Focaalblog on August 3, 2020
In the Netherlands from 2015 onwards, the 'spectacle' (Casas-Cortes et al. 2015) of people arriving into Europe seeking refuge was channeled by vast media attention and political debate. These events triggered a vast response of bottom-up initiatives in the Netherlands wanting to support refugee status holders. In this contribution, I focus on such newly emerged initiatives that seek to support refugee status holders in Rotterdam, the second-largest city in the Netherlands. It discusses the struggles that the initiators of these initiatives face, who more often than not have a refugee background themselves. It shows how these struggles originate from the ambiguous categorizations of group-making that experimental policies presuppose in the field of refugee reception and support in urban spaces today.
I focus on initiatives that are not established yet, but are still in the process of becoming. By studying initiatives that are still fine-tuning their focus, grappling for funds, searching for volunteers, seeking collaborations with others et cetera, I had an insight in the constitutive and generative elements of the infrastructure of refugee reception and support.
During a 12-month ethnographic fieldwork period in Rotterdam in which I studied such initiatives, I followed several aspiring initiatives in their efforts to establish partnerships with other organizations. When the community organizers of these initiatives would meet with people who know about funding circuits, discuss their project proposals with the municipality, pitch their plan in network sessions, organize events to acquire volunteers and so on, I joined them. In doing so, moments of breakdown (Larkin 2013) were particularly insightful; when my research participants hoped for or anticipated something that did not arrive, I learned about who may do what, where and how.
Rotterdam is an illuminating case to study grassroots initiatives in the field of refugee reception and support. It is considered 'policy laboratory' (cf. Van Houdt and Schinkel 2019) and is celebrated for its allegedly innovative urban and social policies, including in relation to migrant integration. Rotterdam cherishes its alleged hands-on mentality – a mentality captured by the popular slogan 'actions speak louder than words'. Contrasting with Rotterdam's self-image as experimental and bold, the city has the highest number of low-income households in the Netherlands. Another central force in the city is Livable Rotterdam ['Leefbaar Rotterdam'], a rightwing party with populist traits and the highest share of votes in local elections. Their policies focus on so-called immigrant assimilation and are explicitly anti-immigration – which translates into policy frameworks that the resident initiatives I study here are affected by and provides context to the fierce anti-immigrant protests in the city in 2015.
Intersecting struggles
Between 2016 and 2020, the so-called Rotterdam Approach for Status Holders explicitly reached beyond the integration objectives articulated by the national government. For example, in Rotterdam, the City Council expects refugee status holders to pass the civic integration exams one year earlier than usually required. In addition, through the 'Time Obligation' measure [dagdeleneis], the City Council expects refugee status holders to be 'active in society for at least four days a week or more with education, work, or voluntary work'. This measure is part of the so-called 'Participation Act', which applies to everybody in receipt of benefits. Although a policy evaluation pointed out that only 47 per cent of the status holders in Rotterdam was indeed 'active', the most recent (2019-2022) Rotterdam Approach to Status Holders largely continues the existing approach. As a consequence, the refugee status holders that I worked with struggle to live up to the demand to integrate fast, struggle to find their way in the incomprehensive field of initiatives, and fear to be unsuccessful in managing their new lives.
Resident initiatives that seek to support status holders struggle too – although on first sight, Rotterdam seems the place to be for resident initiatives. The Rotterdam Approach for Status Holders states that, in 'coordinating additional activities' for accepted asylum seekers, it 'smartly uses […] private initiatives for refugees and volunteer work,' thus explicitly opening up the floor for participatory initiatives to play a role. The document claims to 'believe in the added value of civil society,' to recognize 'that creative and innovative initiatives from volunteer organizations give new energy and help integration,' and that it 'encourages such initiatives wholeheartedly.' It thereby responds to recommendations from The Netherlands Scientific Council for Government Policy (WRR) to mobilize to 'society' and 'volunteer projects' in 'speeding up integration', as well as to the general appeal to 'active citizenship'.
In practice, however, funds are drying up. In 2014, the city administration agreed to 'stop irrelevant subsidies in the field of diversity and emancipation,' for 'tax payers' money gets lost' and 'subsidizing activities is not a goal in itself'. This shift away from subsidized activities is explicitly mentioned in a recent policy documentregarding support to refugee status holders: 'only a small part of the budget remains available for subsidies for small-scale, innovative initiatives from society,' the document points out. As such, the initiatives I worked with find themselves faced with competitive funding schemes; they fear being excluded from subsidies and collaborations, while trying their best to build an image of professional legitimacy.
Opaque group-making
The different forms of struggle identified thus far can also come to intersect, as illustrated in the case of Aida. Aida received a refugee status several years ago, is in receipt of social benefits, and is in the process of setting up an initiative to help Eritrean status holders with their paper work. However, she is afraid she will not be able to get support from the City Council. This is so because the abolishment of the so-called 'target group policy' in Rotterdam prescribes that policies should target the population of Rotterdam in general, and not have specific interventions that assume ethno-racial differences (such as people with an Eritrean nationality). Although the Netherlands has a strong tradition of implementing targeted policies, the shift from group-specific policies to generic policies has been a political priority since at least the 2000s (Scholten and Van Breugel 2018). As a result, there is evidence of a declining consciousness of migrant integration concerns, because generic policies often fail to incorporate immigrant integration priorities in the 'mainstream' (idem).
For Rotterdam, Dekker and Van Breugel have deconstructed the move from target group policies towards generic policies. They identify a 'continuous act of balancing between generic and specific policies' (Dekker and Van Breugel 2019, 128) that at one time implements targeted policies for migrants and at another time subsumes migrant interest under generic policies. These interchanging approaches to group-making in Rotterdam now seem to have reached an equilibrium in which generic policies are the norm. Regarding the support of civil society organizations that seek to assist refugee status holders, the municipality decided to no longer support 'mono-ethnic and/or mono-religious activities' to the extent that initiatives 'will not be financed, unless there are substantive reasons to do otherwise' because activities should be 'focused on participation and integration.' In another policy document, the city's discouragement of such activities is explicitly linked with Rotterdam's earlier-mentioned self-image as 'innovative city': in 'giving room to new innovative organizations and ideas,' the City Council explicitly breaks with 'whatever is done in the past'.
Yet despite the fact that Rotterdam seem to have reached an equilibrium in which generic policies are the norm, the city publishes annual reports on the achievements of 'people with a migration background' that fly in the face of any 'generic' policy assumption. Moreover, to my research participants, the 'group policies' are elusive and subject to change. For example, Rotterdam's 'Somali-resolution' in 2015 has resulted in the formal recognition of people of Somali descent as 'group' and led to the subsequent availability of subsidies to community organizers that sought to assist this 'group'. And considering recent publications about 'the Eritrean group' – such as this and this and this one – my research participants now expect the same thing to happen to people from Eritrean descent as 'group'.
Exactly because of this instability and opacity with regards to group-making, community organizers such as Aida are striking out blindly with regards to what 'groups' can be identified without risking eligibility to municipal funding.
What adds to Aida's confusion, is that different municipal departments work through different logics. The department that is responsible for procurements in the field of refugee receptionand support (Work and Income) has different expectations from initiatives than the department that is responsible for subsidies(Social Support). The former department is now experimenting with so-called 'customer profiles'. As an example of such profiles the policy advisor mentions 'the single mother with three kids' and adds that 'customer profiles are a good way to offer tailor-made solutions without working with target groups.' Customer profiles thus are meant to 'objectively' describe 'groups' of city dwellers without assuming ethno-racial differences, they make use of stereotypes such as 'the single mother with three kids' – a figure that appears as 'the inversion of morality and family values par excellence' (Koch 2015). To Aida, it is unclear to what extent these customer profiles are something that concern her and her endeavors; although she now applies for subsidies, she hopes for her activities to be included in the procurement structure some time. Again, she gropes along in the dark.
Eclectic initiatives
As a result of her insecurity about what constellations of people are accepted as a target group, Aida has started to organize dinner parties for long-term Rotterdammers with little money, alongside offering administrative support to Eritrean refugee status holders. She does so because she is scared that if the municipality found out that she only offers support to Eritreans – which she in fact does, with a few exceptions – she would be accused of catering only for one 'target group' and as such miss out on funding and collaborations.
These dinner parties however create awkward moments, because the long-term Rotterdammers – who are all white – usually sit on separate tables to black Eritrean people. It is not that Aida has intentionally designed the dinner-setting as such; it is rather that she does not know how to deal with the situation. Recently, the initiative of Aida was declined funding again. In the refusal letter said that 'there are good reasons to assume that the subsidy would not (or not sufficiently) be spent on (or contribute to) the (policy) objective for which the subsidy is meant.' In a subsequent meeting with a policy advisor at the town hall, it was specified that Aida's initiative was considered 'too broad'. Never mind that very reason the constellation of beneficiaries is indeed quite diverse is that Aida is scared to be accused of focusing on one group in the first place.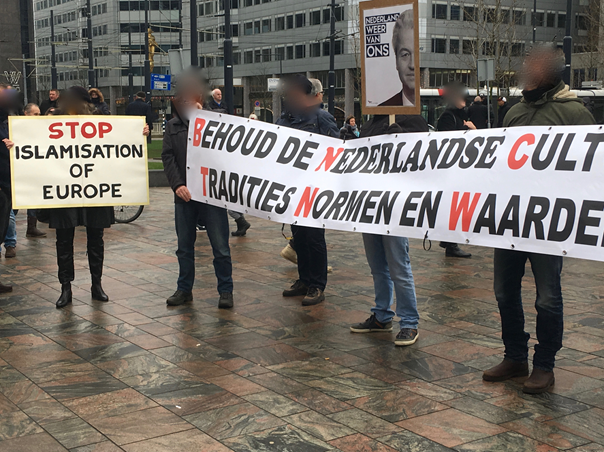 Reception brokers
Because it is so difficult for Aida and other initiatives to navigate the municipal frameworks, she has asked the help of Jozefien. Jozefien is a woman who has co-founded the platform called You Are Welcome. She once introduced herself as 'from a little village in the Netherlands' yet added that 'I feel more like a Middle-Eastern person, I think.' You Are Welcome was established to strengthen bottom-up initiatives that engage with refugee status holders, and to spread a positive message on integration. The platform was launched in 2015, explicitly in response to violent protests that broke out during an information meeting about the construction of the reception center.
What is problematic, however, is that some of the initiatives that Jozefien helps, dislike one another. In particular, Aida really dislikes Luciano, the founder of another aspiring initiative for Eritreans, who is born in Rotterdam in a family of refugee parents. Aida is upset because she fears that Luciano is trying to take clients from her. Aida is hurt, she says, because she feels that Luciano is a smooth-talker, that he smiles arrogantly at her on the street, and that, given that Luciano has more contact with city administrators, he forces Aida into the shadows.
For Jozefien, although she tries to equally promote both initiatives, it is difficult to deal with the tension between the two. It also has ramifications for her own relationships with Aida and Luciano. Especially for Aida, the competition she experiences with Luciano makes her deeply distrust Jozefien. One afternoon, Aida complained to me that 'so often she [Jozefien] is at Luciano's. But she doesn't come to us! And she has taken him to the councilor ['wethouder']! She has arranged an appointment for Luciano with the councilor! I asked Luciano if I could join. But Luciano said: "no".' […] And she [Jozefien] has never even come to our Friday dinners! She only came once, to take a picture, and then she left again. From the very beginning, I didn't feel welcome at You Are Welcome.'
Discussion: solidarity, humanitarianism and neoliberalisation
Recent ethnographic work contrasts solidarity with humanitarianism and juxtaposes emic accounts that frame solidarity as horizontal, anti-hierarchical, and as an emphasis on similarities between people with the viewpoints of professional humanitarian NGOs (see e.g. Cabot 2014). In Rotterdam, because grassroots initiatives generally turn to the municipality for funding and collaboration and feel pressured to professionalize, the distinction between solidarity and humanitarianism is remarkably fuzzy. The community organizers of refugee support initiatives 'yearn for' the state (Jansen 2015) to formally recognize their initiative through a tendering contract and compete to perform professionalism. They seek to use licensed software to prove impact, assimilate to municipal buzzwords, match funding calendars, formalize their organizational form, and forge lucrative partnerships.
These emerging forms of humanitarian volunteering (Youkhana and Sutter 2017; cf. Rozakou 2017) summon a complex assemblage of forms of humanitarian reason, forms of authority and technologies of government (Fassin 2007). Because grassroots initiatives seek to incorporate policy objectives (cf. Van Dam et al. 2014), are subject to mechanisms of raising funds that are part of the technologies of government (Fassin 2007, 151), and thereby gamble on which 'target groups' the municipality will acknowledge, they are shaped by these forms of authority and technologies of government. The case of Aida is an example of how refugee support has become intertwined with control mechanisms that are part of experimental municipal policies.
To Aida as well as to the brokers she turns to for advice, is unclear which 'groups' may be identified and which not. A lot of 'information' in this regard is distorted and comes from hear-say. Although the interchanging approaches to group-making in Rotterdam now seem to have reached an equilibrium in which generic policies are the norm, this equilibrium is unstable, as reports about specific ethnic groups have proven to result in the recognition of these groups and the subsequent availability of subsidies. Moreover, different municipal departments – that deal with subsidies and competitive tendering contracts respectively – work in accordance with different logics, yet is it unclear where one logic begins and the other one ends.
This opacity of group-making policies and related funding schemes gives rise to fierce competition and distrust between initiatives, which has fueled divisions within the refugee solidarity movement. In the grappling race for funds between (aspiring) initiatives which give in to the criteria for competitive success, neoliberal market logics and humanitarianization become further entwined. Community organizers seek to act as successful entrepreneurs – by reaching targets, increasing numbers, seizing volunteers, and laying hold of the target group. In doing so, they may present their core issues as side affairs and vice versa.
This contribution shows that not only beneficiaries suffer from the contemporary mechanisms that mix care and control; some of the aspiring community organizers with a refugee background find themselves in a precarious position as well. Underneath the seemingly universalizing pretense of generic policies, ambivalent practices of institutional selectiveness exclude vulnerable community organizers and the initiatives they are trying to launch. The inequalities that these exclusions are premised on are produced as well as obscured by the mantra of generic policies.
---
This project has received funding from the European Research Council (ERC) under the European Union's Horizon 2020 research and innovation programme (grant agreement No. 679614).
---
Lieke van der Veer (Department of Anthropology and Development Studies, Radboud University, Nijmegen, The Netherlands) is a PhD Candidate in Anthropology in an ERC-funded research project on participatory urban governance. She has a background in Philosophy. Based on 12 months of ethnographic research in Rotterdam in 2018, she studies aspiring grassroots initiatives that provide support to people with a refugee background.
---
References
Casas-Cortes, Maribel, Sebastian Cobarrubias, Nicholas De Genova, Giorgio Grappi, Charles Heller, Sabine Hess, Bernd Kasparek, et al. 2015. "New Keywords : Migration and Borders." Cultural Studies 29 (1). Taylor & Francis: 55–87. doi:10.1080/09502386.2014.891630
Dekker, Rianne, and Ilona van Breugel. 2019. "'Walking the Walk' Rather than 'Talking the Talk' of Superdiversity: Continuity and Change in the Development of Rotterdam's Immigrant Integration Policies." In Coming to Terms with Superdiversity: The Case of Rotterdam, 107–32. IMISCOE Research Series.
Fassin, Didier. 2007. "Humanitarianism: A Nongovernmental Government." In Nongovernmental Politics, edited by Michel Feher, 149–60. New York: Zone Books.
Houdt, Friso Van, and Willem Schinkel. 2019. "Laboratory Rotterdam. Logics of Exceptionalism in the Governing of Urban Populations." In Coming to Terms with Superdiversity: The Case of Rotterdam, edited by Peter Scholten, Maurice Krul, and Paul van de Laar, 133–51. IMISCOE Research Series.
Jansen, Stef. 2015. Yearnings in the Meantime: "Normal Lives" and the State in Sarajevo Apartment Complex. New York and Oxford: Berghahn Books.
Koch, Insa. 2015. "'The State Has Replaced the Man': Women, Family Homes, and the Benefit System on a Council Estate in England." Focaal–Journal of Global and Historical Anthropology 73: 84–96. doi:10.3167/fcl.2015.730107.
Larkin, Brian. 2013. "The Politics and Poetics of Infrastructure." Annual Review of Anthropology 42: 327–43. doi:10.1146/annurev-anthro-092412-155522.
Rozakou, Katarina. 2017. "Solidarity #Humanitarianism: The Blurred Boundaries of Humanitarianism in Greece." Etnofoor 29(2), 99-144.
Scholten, Peter and Ilona van Breugel, eds. 2018. Mainstreaming Integration Governance: New Trends in Migrant Integration Policies in Europe. Palgrave Macmillan.
Youkhana, Eva, and Ove Sutter. 2017. "Perspectives on the European Border Regime: Mobilization, Contestation and the Role of Civil Society." Social Inclusion 5 (3): 1–6.