Adam James Moore
Published on Focaalblog on September 23, 2020
On 1st March 2018, a group of protestors blocked a dual-carriageway in front of Acevedo Metro (and Metro cable line) Station in the North of Medellín, Colombia. Those who have read something about Medellín's internationally acclaimed urban transformation in recent years will have almost definitely found their gaze drawn to the image of a cable car suspended above a tapestry of terracotta roofs that cascades down Medellín's Aburra Valley. This image has become emblematic of a wondrous turning-point in Medellín's contemporary urban trajectory. Once a hotbed of urban violence, state abandonment and spatial disconnection, these underprivileged peripheral neighbourhoods received state investment in bold infrastructural projects, and via the introduction of participatory governance mechanisms, now enjoy an empowering degree of protagonism in shaping Medellín's urban future. Welcome to the 'pro-poor' city of Medellín.
In mainstream representations of the city, this seductive narrative of transformation has come to be known as 'the Medellín miracle'—a U-turn from pole position in world homicide rates to rebirth as a pioneer of 'social urbanism' by the mid-2000s. This alleged Medellín Miracle has captured the hearts and minds of international development practitioners, business leaders and urbanists alike. In 2014, Medellín triumphed over strong competition to host the 7th UN HABITAT World Urban Forum with 'equity' at the centre of the development agenda. Other prestigious awards include: 'Innovative City of the Year 2013'; 'The Lee Kuan Yew World City Prize 2016'; 'The World's Smartest City 2019'; and all pay homage to Medellín's local government for distributing the benefits of city upgrading evenly across the socio-economic spectrum.
Whilst the local government continues to dine out on its own reputation as a champion of urban equity on the global circuit, local residents, such as those protesting in front of the metro station, say that when it comes to the planning and implementation of urban renovation projects, certain people 'are more equal than others'. This blog scrutinises the prevailing and yet misleading notion that Medellín's local government approach to urban change is 'pro-poor'. Instead, I foreground the underreported 'human cost' of these interventions, and particularly their emphasis on the emergent needs of the knowledge-economy and wealthier classes. In this I draw on my ethnographic work on the practice of 'autoconstruction' in Medellín (Caldeira, 2017), which shows that the local government eradicates the means through which the economically most vulnerable residents manage to inhabit the city.
Some people are more equal than others
As I stood at the road-block in 2018, the city's façade of equitable urban development began to crumble away. Acevedo Metro Station sits in the basin of the Aburra Valley. At present, this iconic cable car line runs up and down one side of the valley. The opposite side is poised for renovation, including a second cable-line with three gleaming new Metro-cable stations. At the 2018 road-block, residents and community leaders protested against these developments, which would evict them from their homes. Human rights activists, city councillors and students who confront similar problems across the city joined them. A squeaking megaphone changed hands throughout the afternoon as community leaders spoke about social injustices unfolding in different neighbourhoods where compensation for evictions is not enough to buy another house in Medellín, let alone in the same neighbourhood. Workspaces and productive units are lost, the state as well as local armed actors intimidate residents and community leaders.
At dusk, shortly before leaving, a man spoke to me and pointed over to his house – soon to be demolished in the planned extension of Avecedo Station. 'Look', he said, 'we don't oppose the projects; they're good for the city. What we don't agree with is how the government carries out the projects…in their line of thinking it's, first, start the new construction, and, then, they throw us out on the streets like dogs.' His words reflected a troubling and, at times, more latent sentiment underpinning residents' participation in the road-block that day – these changes are desirable, but they aren't for us. Who, then, it must be asked, is it all for?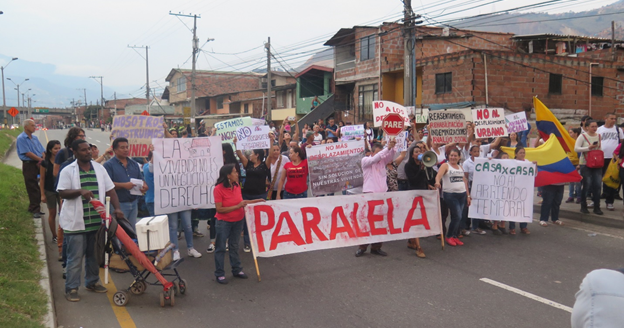 Recent critical scholarship on Medellín's current urban makeover demonstrates that the plight of those at the road-block by Acevedo Station is inseparable from a substantive shift in the city's economic strategy to move from light manufacturing to services. Franz (2017) provides a compelling interrogation of the role played by Medellín's economic elite in driving an alleged bottom-up 'urban miracle' via oligarchic conglomerates such as the Antioquian Business Group (GEA) that effectively controls participation and opaque decision-making since the 1990s. Medellín's economic elite of today is a 'transnational capitalist class' and not the regionally-minded industrial elite of the past. Since the 1990s, this transnational capitalist class has enforced global market-led urban development through the reconfiguration of local ('good governance') arrangements and the large-scale construction of what Hylton (2007) calls 'show-case public works' to attract international capital investment.
The transition to a service economy shapes Medellín's built environment far beyond the unsavoury erection of 'Latin America's Silicon Valley' (the Medellín Innovation District) in the historically under-funded Northern part of the city. As Anguelovski et al. (2019, 136) criticise, the 'greening' of city-spaces 'augments efforts to attract knowledge workers with new bikeways and leisure spaces conducive to their preferences, and has already brought in new real-estate development projects for middle – and upper – class residents'. For many residents, conversely, these new green public amenities spell eviction and dispossession. In sum, the 'success' of the GEA's ambitions to position Medellín as a provider of services in the global economy rests heavily upon re-imagining the urban landscape as strategic areas around the city. Favourable tax-breaks and flexible employment conditions for multi-national companies alone are not enough, Medellín must become a place where these businesses and their future tech-savvy employees want to work, live and play.
There is, however, a problem of seismic proportions unfolding here. Urban renovation interventions, such as the new cable-line, are leaving a trail of destruction, tears and human rights violations in their path. In a recent publication, 'Victims of Development in Medellín: progress and inhabitants in dispute', Kavilando and their co-authors (2018) provide a meticulous case by case assessment of ongoing urban renovation projects in Medellín and the harmful trail of destruction (economic, psychological, emotional, material, social, health-related) this confers upon local communities. Throughout 2018, urban activists and human rights defenders denounced 5,924 cases of eviction and displacement caused by urban development projects within Medellín. One would hope that, for the local government, this statistic makes for uncomfortable reading.
Medellín is a city that has been plagued by intra-urban displacement of the civilian population due to armed territorial disputes over the last decade. This phenomenon remains an episodic menace in certain neighbourhoods, but the total number of reported cases has significantly reduced from 17,954 in 2011 to 3,494 in 2017. As things stand, this means that the local government (together with its backroom network of 'master-planners' in the form of the GEA) has replaced armed groups as the main perpetrator of forced displacement in Medellín's urban area. It is also relevant to point out that many of the residents caught up in cycles of state-led displacements in the city are families who already figure in government databases as Internally Displaced Persons (IDPs) of regional conflict, who built their own houses in Medellín precisely because the government has failed to come good on its obligation of housing subsidies to date.
Creating a city without the poor: autoconstruction, disasters & anti-invasion squads
In its role as lead perpetrator of forced displacement, the local government is also responsible for eradicating the means through which residents at the bottom of Medellín's income ladder have historically managed to inhabit the city: autoconstruction – a practice through which residents build their own housing and make urban life liveable despite the limited structures of economic opportunity available to them (Caldeira, 2017). In many neighbourhoods citywide, the local government is chipping away at existing self-built settlements 'manzana por manzana' (block by block), whilst doubling-down on repressive penal measures to impede the formation of new ones. Such strategies form part of what Anguelovski et al. (2019) refer to as 'grabbed landscapes'. Their study of Medellín's 'green-belt' development shows how green infrastructural planning and the 'beautification' of certain territories in and around self-built settlements dispossess residents of location, land and social capital and prevent the 'undesirable' expansion of autoconstructed settlements. Thus, green interventions that purport 'benefits for all' (e.g. parks) produce new inequalities by 'disciplining' the landscape to prioritise the leisure needs of wealthier classes over the basic survival needs of the poor.
This logic is also reflected in the local government's response to disasters in self-built settlements. Also present at the road-block in front of Acevedo Metro Station were representatives of 349 families, who lost their self-built housing in a fire in August, 2017. Noelia, a single mother, recalled receiving a phone call at work in a nursery in the wealthiest part of the city. She rushed back to the settlement, 'El Oasis', just in time to witness, from a distance, the second floor of her wooden house collapsing into the first. Noelia described her sense of devastation at the sight as something akin to a descent into madness. She would later discover that the first fire engine to arrive on the scene had empty water tanks and the second one a broken hose. After the disaster, Noelia battled to keep a roof over her head, forgoing meals to make the rent, constantly on the dehumanising precipice of eviction.
In the wake of the disaster, Noelia had applied for the local housing department's Temporary Rent Programme, which offers a monthly rent subsidy to victims of natural disasters or housing evictions for up to a full year. But Noelia's application was rejected for her 'failure' to submit the required documentation on time. Her feasible plea that these documents were still smouldering in the ashes fell upon the unforgiving ears of a senseless bureaucratic norm. As Noelia moved from one rental property to the next, eventually ending up in a cheap boarding house, the local government set about converting the plot of land in 'El Oasis' – where 349 households once stood – into an 'ecological garden'. The disaster in El Oasis became an opportunity for the local government to consolidate its land grabbing ambitions. When I departed Medellín in November 2018, many of these families were living under a motorway bridge.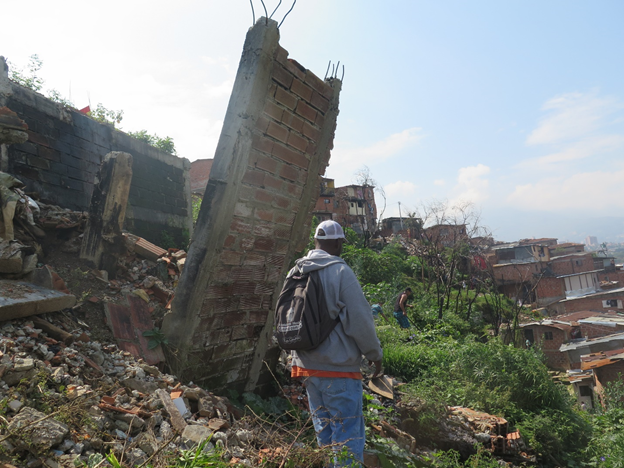 Noelia hoped that her time living in the overcrowded boarding house would only be temporary. Entire families occupy single rooms and the bathroom facilities are shared. A gas canister stood next to her mattress because there were no facilities or common spaces available for cooking. It was far from desirable, but living in these conditions allowed Noelia to save some money. As soon as she built up enough savings, she was planning on purchasing a plot of land from the paramilitary groups (who govern and profit from illicit land markets in Medellín) and rebuilding her hut from scratch. But more autoconstruction is exactly what the local government is hell-bent on phasing out completely, meaning that Noelia's future plans look more unattainable now than ever before.
Historically, 'invasions' have always been mired in tensions relating to urban planning and regularly involve physical stand-offs between residents attempting to meet their basic needs and public authorities opposing the 'illegal' occupation of public land. As of September 2017, however, the local government's repressive measures against land 'invasions' have intensified through the Department of Territorial Management's funding of 'The Prevention and Attention to Invasions Programme'. What this means on the ground is that 'anti-invasion squads' now prevent constructions in breach of planning norms. In the first six months, these anti-invasion squads carried out 2,800 inspections and 204 demolitions citywide. Areas considered invasion hot-spots are under permanent surveillance, 'El Oasis' included. The Prevention and Attention to Invasions Programme not only affects 'newcomers' whose houses get flattened before completion, but also long-term residents who receive fines for modifying the existing structures of their households. A resident replacing a leaky roof in a self-built settlement now runs the risk of waking up with a fine or eviction notice pinned to their front door.
Of course, not every house is set to imminently disappear. As da Silva (2020) details in this blog feature series, municipal administrations (in the author's case, in Recife, Brazil) also benefit from self-built settlements initiated by the poor. This, da Silva argues, can be understood as the 'occupancy urbanism of the powerful'. In Medellín, for instance, some self-built settlements like the Comuna 13 (once the neighbourhood with the world's highest murder rate) serve marketing purposes in the narrative of miraculous transformation. In turn, they attract revenue from tourists seeking a narcissistic flirtation with dangers past; safe, of course, within the (differentiated) security provision of the present. Then they head back to the hostel, bosh a line of coke, and tell anyone who will listen all about it.
Appealing fantasy vs. lived reality
The reality outlined in this blog unsettles the misleading yet hegemonic global narrative about urban transformation in Medellín, which heralds the local government as a world leader in its commitment to 'equitable' and 'pro-poor' urban development interventions. The dramatic mismatch between this appealing fantasy and the lived reality of urban renovation interventions in Medellín is, in part, explained by the dizzying amount of cash that the city mayor's administration pumps into the commissioning and distribution of favourable PR at home and abroad in multiple languages. Whilst serving as mayor of Medellín from 2015 to 2019, Federico Gutiérrez earned himself a reputation among local residents for never being in the country. During his administration, 'Fico' spent over 100 days abroad at urban and business conferences, spear-heading Medellín's internationalisation strategy to attract foreign capital investment through the promotion of the city's 'socially inclusive' approach to urban development.
On the ground back home, community leaders who spearhead resistance against urban renovation interventions in pursuit of more socially equitable urban outcomes risk violent reprisals from local armed groups that still govern neighbourhoods. On return to Medellín in late 2019, I was distressed to discover that Diana, one of the community leaders present at the 2018 road-block, had since fled her neighbourhood due to threats. Her crime had been to lead the mobilisations to ensure that residents of 'La Paralela' (one of the neighbourhoods affected by the extension of the metro cable-line) received just compensation for – and before – the demolition of their self-built houses. One evening on the way home from a meeting in the city centre, as she was making her way down the semi-lit stairwell from Acevedo metro station to the roadside, a woman approached Diana. The silhouettes of two figures sat on motorbikes lingered menacingly on the pavement a short distance away. 'You've delayed things long enough', the woman spat at Diana. Unless Diana stopped what she was doing, this traumatic exchange transpired, someone would be back, and, this time, to bury a bullet inside her.
It is unlikely we will ever know who gave the order for the threat. But the reflection of a local human rights defender a short while after the event offers some vital perspective on the complexity of this particular incident. 'Without, necessarily, the need for a direct relationship (between a construction company, the local government and the armed groups),' the human rights defender said, 'they all serve each other's ends'. Mega-projects or large-scale construction work mean funds, he explained, so armed groups seize the opportunity to extort the major companies for building in their zone of the city. If construction gets delayed, so, too, do the armed group's extortion payments. Delays in construction do not suit the local government's short or long-term economic plans either, so, one simple way to ensure that urban development projects continue unabated is tolerating, albeit indirectly, the presence of these armed groups alongside their unwritten license to intimidate and, as such, control the citizenry in Medellín's urban area. 'It functions like a breakon social mobilisations', he added. Meanwhile, construction can go ahead.
In Medellín, as the local government together with a network of private actors impose a greener and more highly-regulated yet exclusionary architecture on the city under the guise of social inclusion and urban equity, the targeted demolitions of self-built settlements alongside draconian preventative measures to guard against the formation of new ones are engendering a profound disruption of the socio-material relationship that the city's poorest residents have established with the built environment.
---
Adam James Moore is a PhD Candidate in Anthropology and Development Studies at Radboud University, Nijmegen (The Netherlands), and member of the ERC-funded research project "Participatory urban governance between democracy and clientelism: Brokers and (in)formal politics". He is also the producer of a documentary, 'Fire in El Oasis', related to his research in Medellín.
---
This project has received funding from the European Research Council (ERC) under the European Union's Horizon 2020 research and innovation programme (grant agreement No. 679614).
---
References
Anguelovski, Isabelle, Irazábal-Zurita, Clara, Connolly, James J.T. 2019. "Grabbed Urban Landscapes: Socio-spatial Tensions in Green Infrastructure Planning". International Journal of Urban and Regional Research. 43 (1).
Caldeira, Teresa. 2017. "Peripheral Urbanization: Autoconstruction, transversal logics, and politics in cities of the global south". Environment and Planning D: Society and Space. 35 (1).
da Silva, Sven. "Special Zones, Slums, and High-rise buildings: Community leaders between "occupancy urbanism" of the poor and the powerful in Recife, Brazil." FocaalBlog, 31 July 2020. www.focaalblog.com/2020/07/31/sven-da-silva:-special-zones,-slums,-and-high-rise-buildings:-community-leaders-between-"occupancy-urbanism"-of-the-poor-and-the-powerful-in-recife,-brazil/
Franz, Tobias. 2017. "Urban Governance and Economic Development in Medellín an 'Urban Miracle'?" Latin American Perspectives. 213 (2).
Hylton, Forrest. 2007. "Medellín's Makeover". New Left Review. 44 (1).
Mesa Duque, Norela, Londoño Díaz, Daniela, Insuasty Rodríguez, Alfonso, Sánchez Calle, David, Borja Bedoya, Eulalia, Valencia Grajales, José Fernando, Zuluaga Cometa, Héctor Alejandro, Barrera Machado, Daniela, Pino Franco, Yenny Alejandra. 2018. Víctimas del desarrollo en Medellín: progreso y moradores en disputa. Editorial Kavilando.
Orwell, George. 1945. Animal Farm. Harlow: Longman 1989.